It's easy to go overboard on newborn supplies. How do you know which are baby essentials, and which are a waste of money? Our newborn essentials checklist will help you decide.
What does a tiny baby really need?
The list could go on and on, but here is a comprehensive guide to the newborn baby essentials you should prioritise getting your hands on before the birth.
Your newborn baby checklist at a glance
Car seat
Nappies
Nappy stacker
Nappy disposal system
Wipes
Nappy cream
Bodysuits
Babygrows
Socks
Scratch mitts
Jersey hats
Shawl
Sleep sack
Nail clippers
Flannels
Towels
Muslin cloth
Toiletries
Bouncy chair
Baby wrap
Camera
Moses blanket
Thermometer
Baby monitor
Pram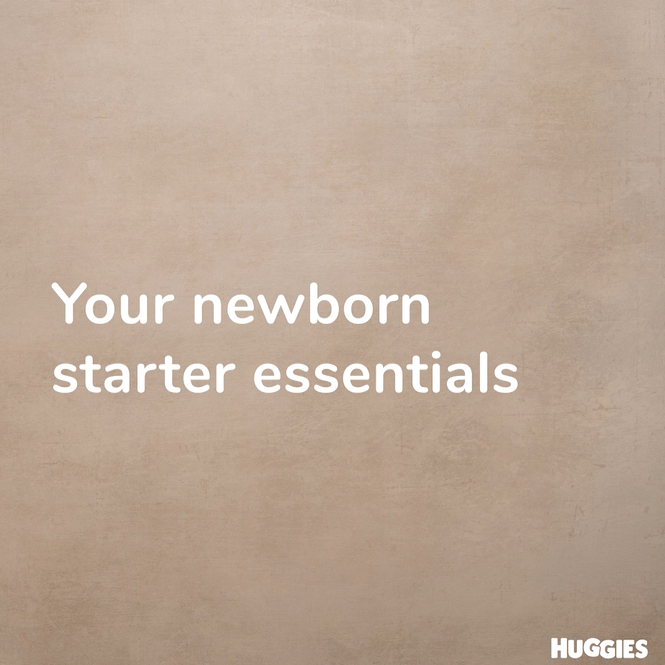 The baby essentials list
1. Infant car seat
You'll need a newborn seat to take your baby home from the hospital and that must be used for every trip by car. Practice putting it in and out before your baby arrives.
2. Nappies
You'll be amazed how many you'll get through in a day! Always have a pile of 10 and add some in bigger sizes too as your baby grows.
3. A nappy stacker or nappy caddy
Somewhere to store nappies that are close to hand while you are changing your baby. Keep a stack upstairs and downstairs so you are never caught short.
4. A nappy disposal system
If you don't have room for a disposal system, look out for recyclable plastic nappy sacks but keep away out of your baby's reach as they can be a suffocation risk.
5. Gentle baby wipes test
Huggies® Extra Care Sensitive baby wipes can be used from birth for newborn nappy changes.
6. Nappy barrier cream
Nappy rash can spring up when it's least expected—or wanted! Get out there and buy a recommended nappy rash cream to keep nappy rash at bay.
7. 4-6 vests or bodysuits
Look out for poppers under the bottom and envelope necks which make them easier to change a tiny baby.
8. 4-6 sleepsuits or babygrows
Sleepsuits and babygrows are a great way to keep your baby warm and comfortable, while leaving plenty of room for growth. Opt for poppers for a quick middle-of-the-night nappy change.
9. 4-6 pairs of socks
We know the story, a washing basket full of odd-socks. So get ahead of the curve and bulk buy them. Oh, and be prepared to lose these on a regular basis!
10. 2 pairs of scratch mitts
Useful to prevent your little one scratching themselves – their nails grow quickly and can be surprisingly sharp.
11. 2 cotton jersey hats
Tiny babies lose heat from their heads, so keep them warm with a hat when you are out and about. Remember hats should not be worn indoors and when sleeping to prevent overheating.
12. 1 shawl or receiving blanket
Useful for more than just swaddling - a burping cloth, a clean surface for changing, or even covering chilly legs in the pram.
13. A sleep sack or cellular blanket.
Babies over a certain weight can use a sleep sack that keeps them warm without using loose blankets. Or you can use a cellular cot blanket, made of a breathable fabric that allows body heat to escape, minimising the risk of overheating.
14. Baby scissors or nail clippers
Cutting tiny fingernails is not for the fainthearted so make it easier on yourself with safety scissors especially for babies.
15. A couple of soft flannels
Gentle flannels or baby wash mitts will help you clean in all the crevices at bath-time. Also useful if you have a boy to help with unexpected pees during nappy changes!
16. Baby hooded towels
Getting your baby warm as quickly as possible is a must, so invest in some baby hooded towels. They're brilliant for post-bath or post-swim warm-ups.
17. Several muslin cloths
You will be surprised how many of these you will go through in a day. Keep a pile upstairs, downstairs, in your changing bag and in the car. Multi-use squares of magic.
18. Baby toiletries
Choose word-of-mouth recommended, mild, organic brands suitable for a new baby.
19. A bouncy chair
When you need two hands, having a safe, strap-in seat for your baby that you can move around the house is a must-have for short periods.
20. A baby carrier or baby wrap
Worth its weight in gold. Allows you to do jobs around the house or head out and about while keeping your baby close – it's useful and great for baby bonding!
21. A good smartphone camera
Document your baby's transformation (but don't forget to enjoy the moments in real life too).
23. Moses basket
From birth your baby needs somewhere safe, warm and not far from you to sleep. A Moses Basket is a light portable bassinet suitable for the first few months. For advice on safe sleep, visit The Lullaby Trust.
23. Digital Thermometer
Add it to the medicine cabinet. Not all can be used on a newborn baby – your Health Visitor will be able to recommend which type.
24. Baby monitor
Aside from the absolute newborn essentials, a smart baby monitor is fast becoming a parent must-have.
25. Newborn pram/ buggy
Choose a pram or buggy that is suitable for newborn babies and is fully reclinable or flat, so your baby can lie flat.
You're all set for the greatest adventure yet
Setting up the nursery, checking off this checklist and packing your hospital bag are just the beginning. From changing your newborn's first nappy to packing a bag for their very first swim, their first step to sending them off for a sleepover, so many exciting things await you and your little one on your parenting adventure. Drink it all in, it's going to be a wild ride!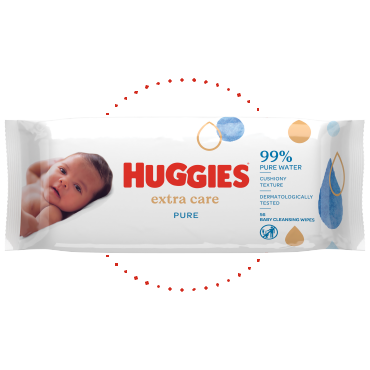 Looking for a great deal, baby?
Sign up with Huggies® to get tips, advice and a cool deal too.