What to take to baby swimming lessons
What baby swimming accessories do you really need? And what can you bring along that will reduce the stress factor by 1,000%? We spoke to parents, who all agreed the following were essential things to pack in your baby's swim bag:
Baby wetsuit
Spare towels
Swim nappies
Extra clothes
Snacks
A bath toy
Coins for lockers
Your own stuff!
You can bet they had plenty of great advice on each item too! Read on for everything you need to know about what to pack for a trip to the pool with your baby.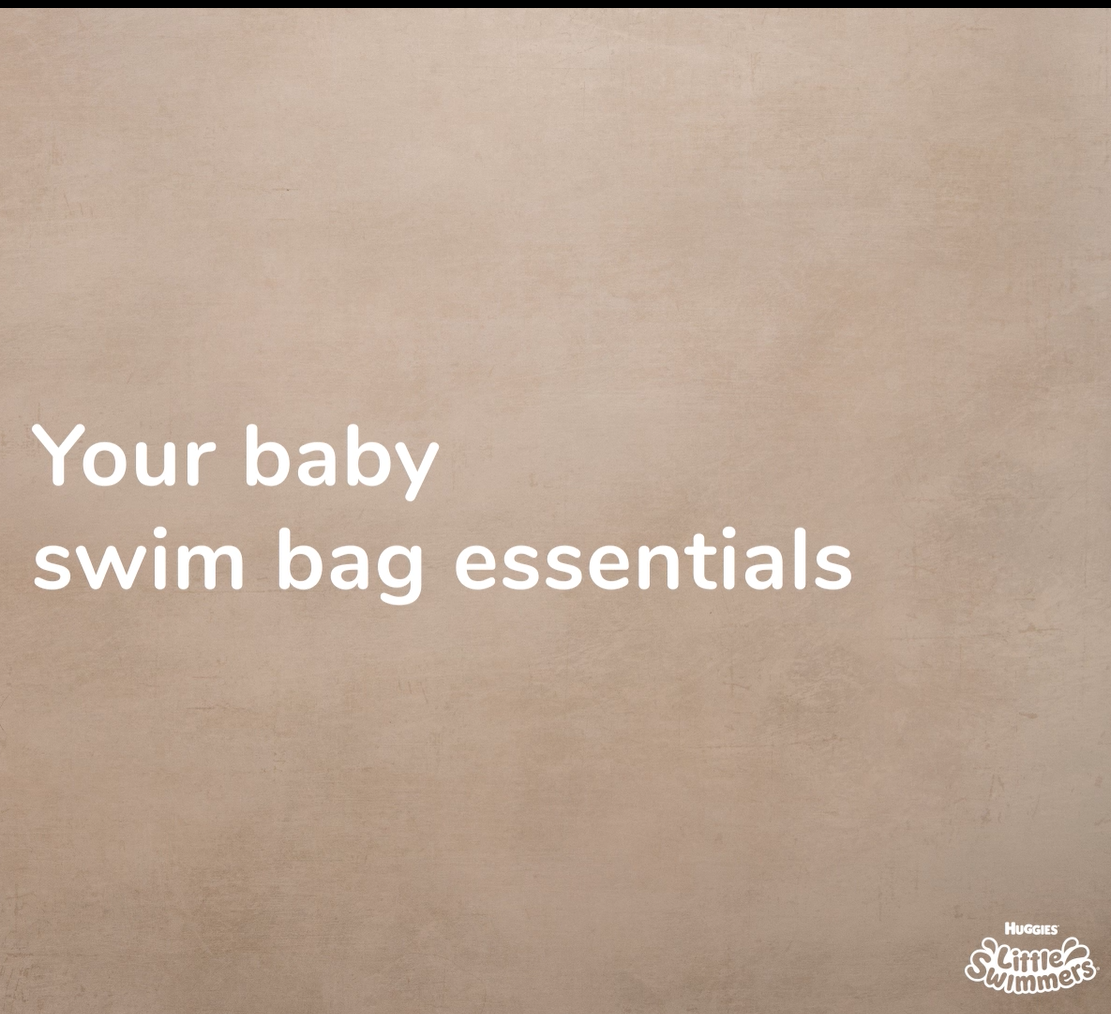 Don't forget to pack a baby wetsuit
It sounds obvious,. In a warm pool you can opt for a mini swimsuit or costume, but if you prefer an extra layer, go for a baby wetsuit or rash guard made of neoprene that traps a layer of warm water next to your baby's skin. A firm favourite with parents was the Swim Cosy from Swim Elite, here.
Pack some spare towels
Hooded towels are great for wrapping and keeping warm as soon as you get out and a spare towel is always a good idea for your baby to lie on, if you have room to pack one. Our parents were recommending the Cuddledry Hands-free towel.
Swim nappies are essential
Huggies® Little Swimmers® are perfect for pool visits until your child is potty trained. They're specially designed to be used in water, with guard leaks that protect against accidents and, most importantly, don't swell in water (like normal nappies do). They help keep your baby safe through not taking on water, as well as enabling maximum movement. And don't forget the regular nappies, Huggies® Baby Wipes and cream for afterwards.
Avoid packing any inflatables
Although it may seem like a fun idea, the general consensus on baby floating aids is a big no.
Your first thought might be that they will increase your little one's stability in the water, but the opposite is actually true. Instead of keeping them upright, buoyancy aids such as armbands or water wings can flip them into the water or land on top of them, making it difficult for them to surface.
The best course of action is to help them learn how to swim naturally, through proper lessons under a qualified instructor. Not only will this help them develop the correct techniques at an early age, it will also help your child feel more confident and independent in the water.
Extra clothes, just in case
Always bring another set of clothes in case things get wet, including some layers for keeping warm post-swim. If your baby is tiny, a hat is a good idea as babies lose heat through their heads.
Tons of snacks
Your baby will be ravenous as soon as you get out, so bring drinks and snacks they can hold themselves like bananas and rice cakes to keep them occupied and happy while you're drying them/yourself. If your baby isn't on solids yet, they'll be ready for a feed immediately so sound out the facilities before you go in and get ready for a quick change.
A bath toy
Pick a favourite (small) bath toy to pack to offer some familiarity, reassurance and fun in the pool. It's a good distraction for babies that might not feel so relaxed.
Coins for lockers
Before you leave home check that you have enough change for two lockers in-case they are unrealistically small for baby bags and coats.
Your own stuff!
Don't forget yourself. Packed or wearing your swimming costume? Easy to remove clothes? Got your own towel and some spare pants? And breathe. You're good to go.
Some of your best changing room hacks
Once the fun's over, it's time to get dry. Save the tears and make getting ready friction free with our parents' changing room hacks.
Make it cosy
"Take something cosy to lie them on and something to look at, like a sensory toy or bath book, while you get yourself changed."
- Hannah, mum to Rufus and Grayson
Never forget the dry bag
"Buy a dry bag (they're mostly used with reusable nappies). Then you can pack all your wet kit into it and stick it in your main bag so nothing will get wet."
- Jamie, dad to Tilly
Snacks, snacks, snacks
"Snacks to keep them distracted when getting them dressed after. And more towels! Alma always screamed as soon as we were out of the pool. Two towels for the baby, one to lay them on and one to get them dry. I always ended up using mine on Alma then I'd have to get myself dry with a wet towel. Not ideal!"
- Lisa, mum to Alma
Take a cue from construction
"Buy builders overshoes – they cost about £5 online and it means you'll never have to take your shoes and socks off too soon and dry them again at the end. You just put them over your shoes and store them at the top of your bag and they dry really quickly. Also, get a net-based bag. It'll dry quicker and it's easier to pack in the car."
- Max, dad to Brock and Lev
A travel changing mat can save the day
"Take a travel changing mat that rolls away and a car seat (if you aren't bringing a pram) to sit your baby in after they're changed and dry so that you can get changed comfortably afterwards, too."
- Jo, mum to Gene
The start of their swimming adventure
How exciting is this? Your little one is taking their first splashes on their very own swimming adventure. From doggy paddle to their first swim gala and maybe even the Olympic games. Who knows where this journey will end?
In the meantime, keep them afloat with the best possible baby swimming advice, whether that be keeping your baby happy on their first swim, water games to make the experience more interactive and what injections are needed before they go. When it's time to make a splash, we've got all the advice you need, from parents and experts.