All children have times when they have bedwetting incidents, some more than others. While you're at home, you can support your child and help them feel comfortable and secure by establishing a great bedtime routine.
But…what happens when you go on holiday?
We've scoured the internet, books, and forums for some helpful ideas to help you and your child cope with bedwetting while on holiday.
You may be concerned that taking a holiday will be a problem in itself, when you have just got your child into a good bedtime routine and—hopefully—dry nights. The fun and excitement of travel and being in a new location will inevitably disturb your normal routine—and having wet beds in a holiday home can be frustrating for you and your child.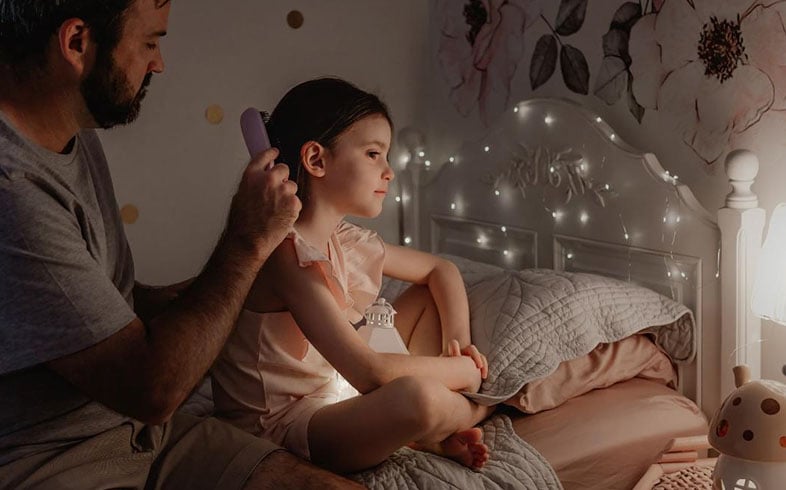 With bedwetting still affecting around 15 per cent of children aged five, be assured it's not an uncommon occurrence and with a few practical steps, you can help everyone have a great break.
Just remember to be kind and patient with your child. With a little preparation for your trip—including taking on board some helpful tips and items—you'll be all set.
Getting ready for a holiday
Clothes, shoes, swimming gear, toiletries—you've got them all on your packing list. Make sure your packing list also includes a section on night-time dryness for your child and you'll all have a much better time.
Some helpful items to help you manage bedwetting on a family holiday in a hotel, apartment, or self-catering accommodation include:
Pyjama pants
Pack plenty of DryNites® Pyjama Pants and help your child put them on under pyjamas at bedtime.
Top tip: If you are going abroad, check to see if you can buy DryNites® at your destination. You should be able to find a supermarket near your holiday accommodation and have a look online to check that they stock them. If not, make sure you have enough to cover your nights away.
Bed mats
DryNites® Bed Mats can also be used under sheets to protect the mattress.
Wipes
For quick clean-ups, pack some Huggies® Wipes that won't irritate the skin.
Antibacterial spray
Add some antibacterial spray to wipe down mattress covers after an accident.
Spare pyjamas
Make sure you have plenty of changes of clothes and pyjamas to minimise the time you spend washing while on holiday.
Plastic bags
Pack some wet bags or even just plastic bags to store wet items.
Other trips your child may take
If your child is going away without you, such as on a school trip or a sleepover, you may want to offer them some night-time products and helpful advice.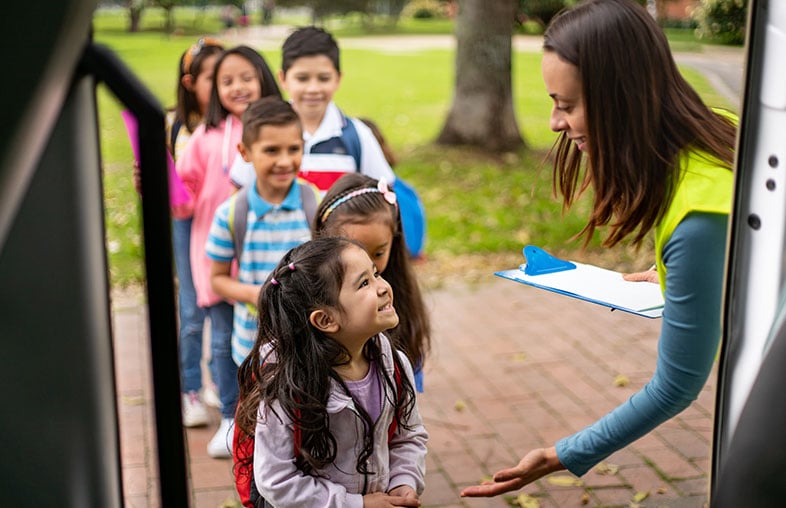 Make sure you discuss the trip before they go, so that you can talk through coping strategies and ways your child can feel more empowered, such as having their own bag or case and, if they are old enough, allowing them to plan and pack it themselves.
Managing bedwetting on a flight or long journey
A long journey or flight may be a troubling for your child and the excitement of it and the length of time between bathroom breaks may be a concern. However, it's very manageable with the right prep.
How to manage bedwetting on a flight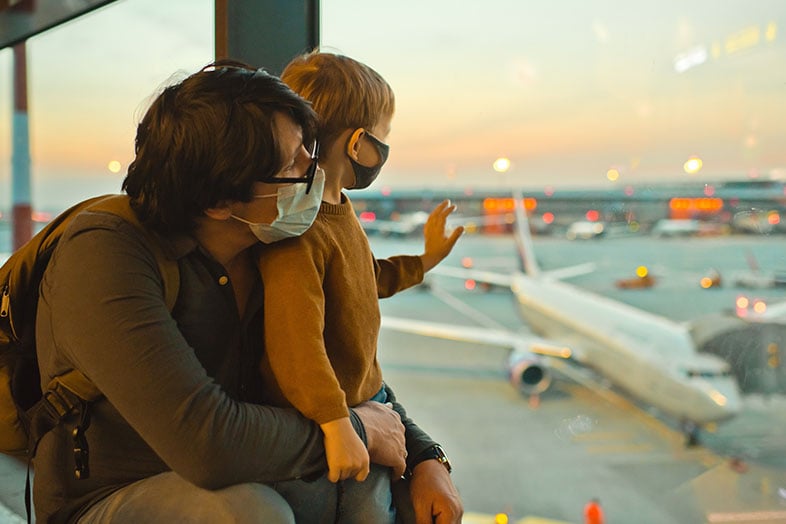 No matter the length of a flight, being cooped up in one space doesn't feel like a great environment for a child who has accidents. There are some easy things you can do to prepare:
If travelling on a long-haul flight, try to book seats on your flight as near as possible to the loos.
Book your child an aisle seat to make it easier for them to go backwards and forwards.
Speak to your child about wearing DryNites® for the journey. Doing so, or even just having the choice, may help your child feel more secure for the flight.
Speak to the flight attendants (discretely) about your child, so that they are aware your child may need to use the loo, especially if you get stuck on the tarmac for a while.
How to manage bedwetting for long car or rail journeys
If you are driving, make sure you know where you can stop for a toilet. There's a really helpful website called Changing Places that can help you locate public toilets throughout the UK.
If you think there may not be a place or time for a stop, or your child might nap on the way, pop them into DryNites® Pyjama Pants under their clothes.
Managing bedwetting while you're on holiday
In order for everyone to have a lovely time on holiday, there are a few simple tips to follow to help your child with their night-time dryness.
Try to keep your children's bedtime routine similar to that at home
There will be some disruption of course, as you will want to eat out some evenings but try to have an overall plan.
Take advantage of all the help you can get
That includes using DryNites® Bed Mats, to give you and your child peace of mind.
Make sure the route to the bathroom is easy to see at night
To help your child can get there when they need to. A portable, plug-in or battery powered nightlight is an excellent buy.
If a parent is worried about their child wetting the bed, we would encourage them to speak to their accommodation and ask for some additional bedding.
That way, their child does not feel as if they are being a nuisance if they have to wake hotel staff up in the night.
Jorge Oliveira, General Manager of the family-friendly Portuguese resort, Four Seasons Fairways
Staying in a hotel with a child who wets the bed
This is perhaps the easiest form of accommodation if you need to change bedding, as it should be readily available, and you'll have someone to change the bed for each day.
It's also worth considering the following:
Enquire before you travel if there are extra sheets provided and make sure you place them in your child's room so they're easily available at night.
A quiet word with the hotel reception or housekeeping team may help you locate some extra sheets if needed.
Ask for a room with easy access to the toilet, such as an open plan room.
Tips for managing bedwetting at a rented holiday home
It may be more difficult to manage this in a rental apartment or cottage, but you could still…
ask for additional bedding
bring a mattress protector (though most rental accommodation will already have it) or Bed Mats
check the washing facilities before you go – is there a washing machine and tumble dryer or line?
Make sure your child has privacy
Your child may be sensitive about their bedwetting, so try to allow them privacy in their own room, if you are able. This avoids having other kids noticing and potentially teasing them.
A room near to your own is also a good idea, so you can get to them easily at night and they can call you, or consider a family room, with their bed in the same room as yours.
Don't let bedwetting spoil their holiday—or yours
Make sure your child doesn't feel their bedwetting is spoiling their holiday and yours.
Make sure they have all they need to feel confident and listened to and that there are quick and easy solutions if they do wet the bed. You have many ways to help your child, so you can all enjoy your time together.
Remember that DryNites® Pyjama Pants are a great way to help manage your child's bedwetting at home and on holiday too.
We hope you have a great holiday!
This content should not substitute medical advice from your personal healthcare provider. Please consult your healthcare provider for recommendations/diagnosis or treatment.