Are we there yet?
More cars on the road, slower journeys, frustrated kids, frazzled parents, right? We found 10 golden tips to help you turn the stressful bit into the exciting bit.
Don't overpack the car

Kids need space. Avoid the temptation of squeezing them in amongst the soft bedding. Hemming them in will add to their frustration, and according to the RAC 'could cause anxiety or distraction on the road.' If you can, leave space between each child, especially if they are prone to squabbling. A cup holder or a secure place to put their water bottle in is a must. As is a bag for all the rubbish. We asked Karen Beddow, Family Travel Blogger @mini_travellers for her top three essentials worth finding space for. 'Snacks, snacks and more snacks! They've got us through more situations than I care to remember.' And wipes. More wipes than you can shake a stick at.

Do pack individual bags

Give your child a sense of ownership with their travel bags. Let them choose what to have with them (within reason) and throw in a few surprises. Old toys they haven't seen for a while all wrapped up, save up the contents of a Kinder egg or Happy Meal freebie, pick up some 'new' old books from the charity shop, add in a new colouring book with coloured pencils in their own pot so they don't all go missing. Or try an entertainment pack from KeepEmQuiet – perfect for travel or rainy days.

Schedule in the stops

As tempting as it is to keep going while they are sleeping, infant healthcare professionals, safety experts and most car manufacturers recommend that very small children should not be in a car seat for longer than 2 hours at a time and they should be taken out frequently. According to NHS UHS, research has shown a link between travelling in car seats for long periods and breathing difficulties in young babies. So split your journey accordingly and find the service stations/local parks/family-friendly eateries with recommended (and clean) facilities. For the lowdown on the service stations to visit and the ones to avoid, check out the latest Which? report.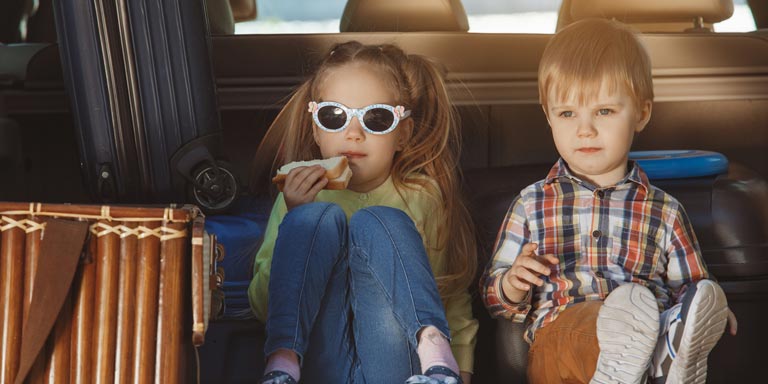 Pace the snacks

You can never have too many snacks on a long journey but think about what to offer when, and let the children know your plan. Use it as a lesson in telling the time. And leave the real treats for the milestones – over halfway, after a nap, after check-in etc. Put snacks in individual bags so each child can choose how to pace themselves too. We got some top snack suggestions from Mammas3LittleBears. "Colourful pots of rainbow fruit, veg and protein snacks: strawberries, raspberries, cucumber and pepper sticks, strips of crunchy pear, hummus chips, granola clusters, cashew nuts, avocado strips and raspberries. Kids love to pick – and make it colourful!"

Find a new game

Who to turn to when you run out of ideas for games to play in the car? The AA of course! Check out their list of fun games for different ages and break the boredom. Car Colour Race is a classic and Who's Next Door? will have you secretly crying with laughter.

Listen to an audio book

Once you've exhausted the games and eaten the snacks, it's quiet time. Pick the right audio book and recharge your batteries. If you're in the car a lot during your trip, try a box set. Popular picks include, of course, the Harry Potter collection, and anything by David Walliams, Roald Dahl, or Dr Seuss. We also liked the Family Lists available to read for inspiration on Audible.co.uk where you can search by genre and by journey time.

Change seats

If you are travelling with a partner who can share the driving, it's a good idea to move to the back at certain stages of the journey. 'If you have very little ones, move seats to supervise snack time, help them play, read to them, and sometimes keep the peace,' says Julia Perry, childcare professional and mum of two. 'But don't stay there for too long. Explain that unless you sit in front, the driver will get lost! '

Don't forget the travel potty

If you're potty training, a travel potty within easy reach is an absolute must, along with spare liners, a few potty training pants to hand and plenty of wipes. Brilliant for when you don't have quick access to facilities, a travel potty is also useful if anyone suffers from travel sickness. Read more about potty training on holiday here.

Screen time is ok

Letting the kids use a kindle or iPad as a reward for good behaviour when you are over halfway there can be a good motivator. There are plenty of apps to download that are perfect for journeys. CBeebies Radio on BBC Sounds has great stories and music to listen to. You can also download their favourite CBeebies show from iPlayer they can watch anywhere. Just limit viewing time for those with a tendency to get car sick.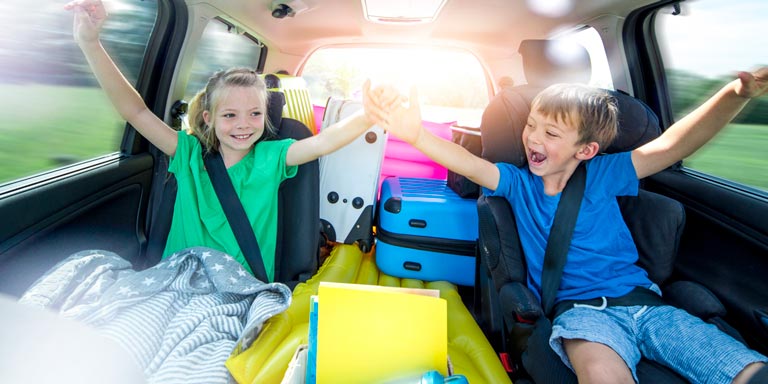 Stay calm

We asked a panel of experienced parents what advice they would give their younger parenting selves. 'As overwhelming as it might feel to be on a long journey with small, unpredictable humans, keep calm, be patient, and remind yourself of the memories you are already making,' says Clare, mum of four. 'Did it matter if there were rice cakes in every orifice of the car?' says Jon, dad of two. 'That their routines were upside down? No. Of course not.' You're on an adventure. Just don't forget the wipes.