When to take your baby to the beach
Thinking of taking a 3 month old to the beach, or even a 2 month old? The good news is there's no age limit for a beach trip! Exposure to the natural world, the benefits of sunshine, the effects of sea air, and the sounds of waves at naptime mean the seaside can have a positive impact from an early age. But there are important things to consider before you plan on taking your baby to the beach.
Parent hack #1 We never did more than a few hours at a time on the beach when the babies were little. Less to pack, less exposure to the sun, and I could still stick to their sleep routines.
Carolyn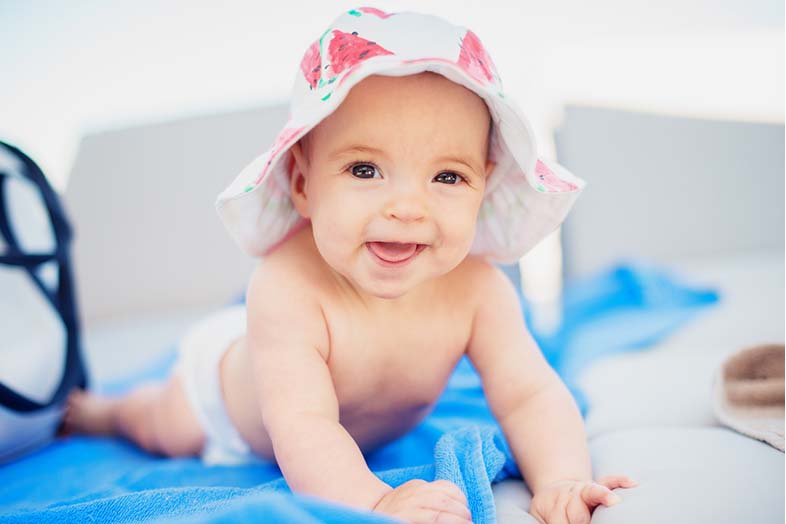 4 ways to stay safe on the beach with your baby
Go early or later in the day to avoid the sun at its hottest (11am-3pm). Protect your baby with a wide brim hat, sun umbrella, full-body UV rash suit and of course a quality sunscreen suitable for babies with an SPF of at least 30. Apply 15 minutes before exposure and reapply after a dip in the sea.

Never leave your baby anywhere near water unattended.

Sand can be fascinating to a baby, but it can also contain sharp stones, glass and rubbish left behind or swept in by the tide, so keep a watchful eye. Waterproof shoes help, especially if sand gets hot.

Beaches are one big playground to little ones. A mobile toddler can cover a lot of ground – so don't take your eyes off them!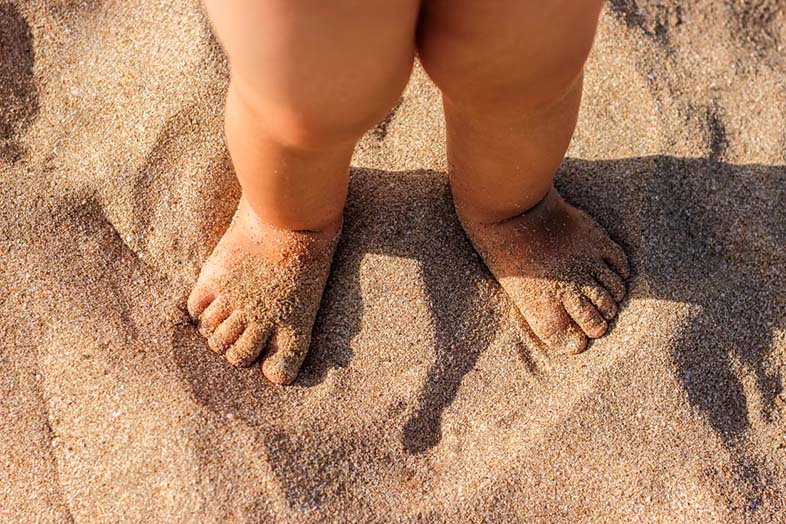 What to take to the beach with a baby: 8 essentials
Sunscreen – a quality brand that's at least SPF 30 and suitable for baby's sensitive skin.

Sun hat – pick a style with a wide brim to shade your baby's neck and eyes.

Huggies® Little Swimmers® to take care of any little accidents, made with an absorbent material that doesn't swell in water.

Beach parasol or tent – shade is really important to provide young children with some much-needed shelter from the sun.

Change of clothes – pack clean, dry clothes and a few extra layers.

Towels – one to sit on, one to dry with.

Drinks and snacks – plenty of liquid, especially on a warm day, and a good supply of snacks to replenish your busy beach baby.

Wipes – useful for cleaning up after a roll in the sand, a sticky ice cream and, of course, a nappy change.
Parent hack #2 Don't leave home without a small blow-up paddling pool and a beach umbrella. It helped our newly crawling son keep cool and stop him putting sand in his mouth.
Jessica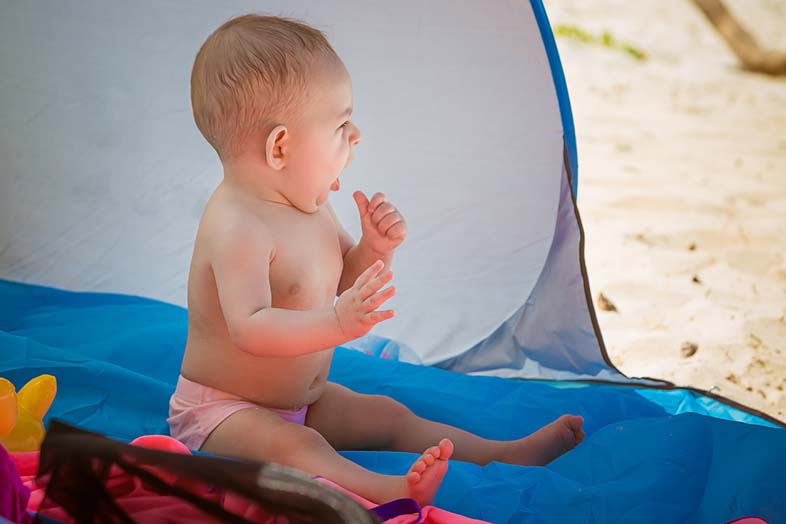 6 nice-to-haves to take to the beach
Swimwear – the fun Disney graphics on a pair of Huggies® Little Swimmers® mean swimwear is not essential, but a cute cossie will help cover your baby's delicate skin.

A UV rash suit is a practical way to protect your baby's skin from the sun's rays (you'll still need to use sunscreen).

A bucket and spade, ball and other durable toys for extra entertainment.

Big blanket, with room for everyone to stretch out and relax.

Camera to record those magical beach outings!

Waterproof footwear to protect little feet from sharp stones and hot sand.
Parent hack #3 We always found taking our buggy to the beach useful for loading up the bags and weary babies – but remember to drag them backwards across the sand, not forwards!
Amanda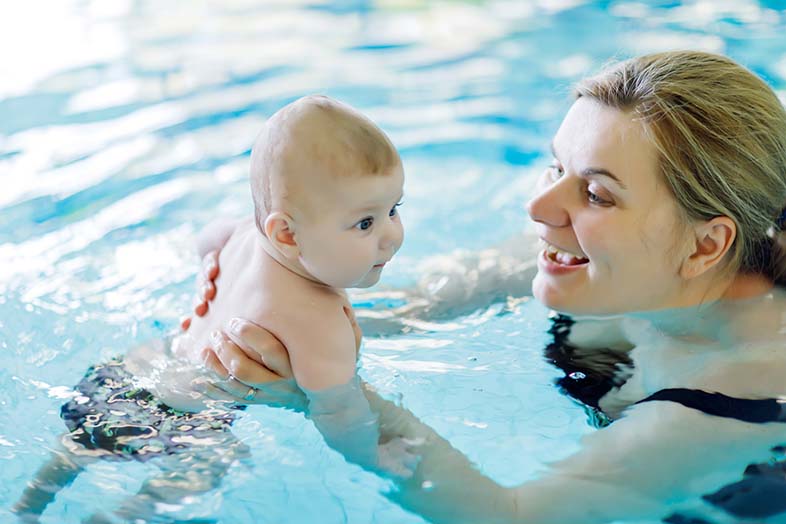 5 beach games to play with toddlers
We asked parents for their go-to beach activities to play on your next visit:
Sand art
Use fingers, a stick or a spade to draw lines and shapes in the sand. Start with familiar shapes to get your little one's interest, then encourage them to have a go.

Catch me if you can!
A game of running, carrying or toddling from the incoming waves will provide endless fun for a squealing tot, especially when someone gets wet!

Treasure hunt
Bury shells, pebbles and other beach objects together for your little one to uncover by digging them up with their hands or a spade. Remember - X marks the spot!

Sand sculptures
Let your imagination run wild! You don't even need a bucket and spade, just use your hands. Wet sand holds better than dry sand and beach finds, such as shells and feathers, make great decorations.

Beach bingo
Take your tot in search of different objects and animals that can be found on the beach. Decide what you're going to look for and then shout 'bingo!' when you make your discovery.
Parent hack #4 A nursery teacher we knew suggested using cornflour to remove sand from your toddler's legs and arms. It dries the skin so it's easy to wipe the sand off. It worked for us.
Sarah
7 ways to stay safe at the swimming pool on holiday
Know the pool rules – different pools might have different sets of rules to the ones you're used to, especially if you're abroad. Check things like whether there are allotted baby swimming times and what your baby is required to wear in the water.

Check the water temperature before you take your baby in the pool. A temperature of around 32 degrees C is perfect for babies under six months old.

Choose the correct baby swimwear - always put your little one in a swim nappy, like Huggies® Little Swimmers®, when they're in the pool to protect against accidents.

Take a couple of bath toys from home that your baby is used to swimming with, as the familiarity will help them adapt to new surroundings.

Keep your baby properly hydrated. Both you and your little one will need to take on considerably more fluid in hotter countries.

For outdoor pools, just like on the beach, stay out of the pool – and the sun – during the hottest part of the day.

Use a high factor sunscreen even when you're in the swimming pool where it may feel cool.
Parent hack #5 For hot days, I would stick their food pouches in the freezer the night before – they would go nice and slushy by the time we got to the beach (which helped with sore gums when they were teething too).
Clare